Returning to Pentecost
An invitation from the Bishops of England and Wales
Laudato Si' (Praise Be To You)
Pope Francis' encyclical Laudato Si is a worldwide wake up call to help humanity understand the destruction that humanity is rendering to the environment and our fellow people.
Journey in Hope
New directions for outreach in the post-pandemic parish
Tuesdays at 7.00 from 3 May on Zoom
New Diocesan Website
The new diocesan website is now live. www.dioceseofnottingham.uk
Make a Difference
Young people 13-18 years are asked to consider: Who in the world today is doing something about inequality, injustice, exclusion and environmental degradation?
Domestic Abuse
The Catholic community have published a resource raising awareness of the impact upon victims and their children.
Pope Francis
According to government estimates there could be up to 1,000 people in the territory of our diocese caught up in human trafficking.
Racism
Break down the barriers in our community, enable us to see the reality of racism and bigotry and free us to challenge and uproot it
from ourselves, our society and our world. Amen.


Grapevine
The latest Grapevine issue! It sounds like people are finding it useful, so we're carrying on! Already 1000's of people receive Grapevine direct into their inbox.
Prayer
Dear Lord We Pray for peace between nations, a lasting peace with justice. For individuals, groups or movements that promote war and conflict, that Christ, the Prince of Peace, might turn hearts to a culture of life. Amen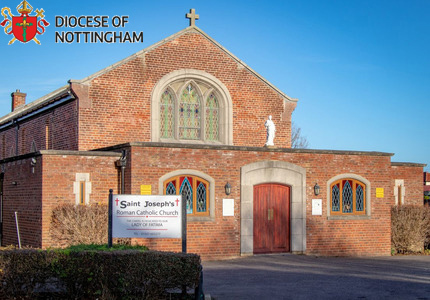 St Joseph's Roman Catholic Church serves the East Coast resort of Mablethorpe and surrounding towns and villages along the Lincolnshire coastline As well as its local congregation, our church welcomes holidaymakers who visit the area in the summer months.
The Parochial Administrator is the Rev. Deacon Roger Crow
Safeguarding Officer Mrs Julie Rock Mob:07984 888343
Health & Safety Officer Ian Telfer
--------------------------------------
Diocese of Nottingham E-Newsletter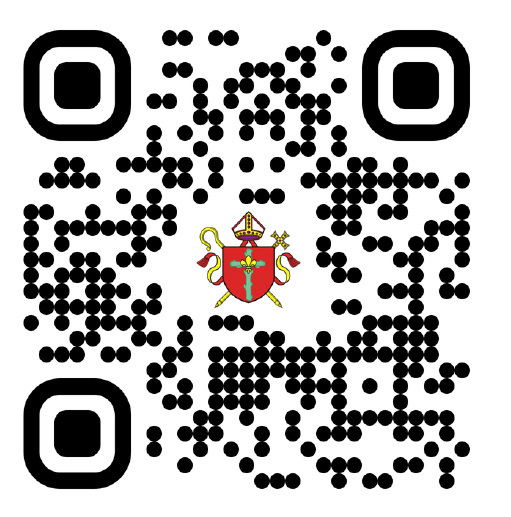 Scan and join to receive the
latest diocesan news straight to
your inbox or register via
dioceseofnottingham.uk/news/mailinglist,
or by emailing
naomi.roberts@dioceseofnottingham.uk


-----------------------------------------------------------------------------------------------

Act of Consecration
to the Immaculate Heart of Mary
Basilica of Saint Peter
25 March 2022
O Mary, Mother of God and our Mother, in this time of trial we turn to you. As our Mother, you love us and know us: no concern of our hearts is hidden from you. Mother of mercy, how often we have experienced your watchful care and your peaceful presence! You never cease to guide us to Jesus, the Prince of Peace.
Yet we have strayed from that path of peace. We have forgotten the lesson learned from the tragedies of the last century, the sacrifice of the millions who fell in two world wars. We have disregarded the commitments we made as a community of nations. We have betrayed peoples' dreams of peace and the hopes of the young. We grew sick with greed, we thought only of our own nations and their interests, we grew indifferent and caught up in our selfish needs and concerns. We chose to ignore God, to be satisfied with our illusions, to grow arrogant and aggressive, to suppress innocent lives and to stockpile weapons. We stopped being our neighbour's keepers and stewards of our common home. We have ravaged the garden of the earth with war and by our sins we have broken the heart of our heavenly Father, who desires us to be brothers and sisters. We grew indifferent to everyone and everything except ourselves. Now with shame we cry out: Forgive us, Lord!
Holy Mother, amid the misery of our sinfulness, amid our struggles and weaknesses, amid the mystery of iniquity that is evil and war, you remind us that God never abandons us, but continues to look upon us with love, ever ready to forgive us and raise us up to new life. He has given you to us and made your Immaculate Heart a refuge for the Church and for all humanity. By God's gracious will, you are ever with us; even in the most troubled moments of our history, you are there to guide us with tender love.
We now turn to you and knock at the door of your heart. We are your beloved children. In every age you make yourself known to us, calling us to conversion. At this dark hour, help us and grant us your comfort. Say to us once more: "Am I not here, I who am your Mother?" You are able to untie the knots of our hearts and of our times. In you we place our trust. We are confident that, especially in moments of trial, you will not be deaf to our supplication and will come to our aid.
That is what you did at Cana in Galilee, when you interceded with Jesus and he worked the first of his signs. To preserve the joy of the wedding feast, you said to him: "They have no wine" (Jn 2:3). Now, O Mother, repeat those words and that prayer, for in our own day we have run out of the wine of hope, joy has fled, fraternity has faded. We have forgotten our humanity and squandered the gift of peace. We opened our hearts to violence and destructiveness. How greatly we need your maternal help!
Therefore, O Mother, hear our prayer.
Star of the Sea, do not let us be shipwrecked in the tempest of war.
Ark of the New Covenant, inspire projects and paths of reconciliation.
Queen of Heaven, restore God's peace to the world.
Eliminate hatred and the thirst for revenge, and teach us forgiveness.
Free us from war, protect our world from the menace of nuclear weapons.
Queen of the Rosary, make us realize our need to pray and to love.
Queen of the Human Family, show people the path of fraternity.
Queen of Peace, obtain peace for our world.
O Mother, may your sorrowful plea stir our hardened hearts. May the tears you shed for us make this valley parched by our hatred blossom anew. Amid the thunder of weapons, may your prayer turn our thoughts to peace. May your maternal touch soothe those who suffer and flee from the rain of bombs. May your motherly embrace comfort those forced to leave their homes and their native land. May your Sorrowful Heart move us to compassion and inspire us to open our doors and to care for our brothers and sisters who are injured and cast aside.
Holy Mother of God, as you stood beneath the cross, Jesus, seeing the disciple at your side, said: "Behold your son" (Jn 19:26). In this way he entrusted each of us to you. To the disciple, and to each of us, he said: "Behold, your Mother" (v. 27). Mother Mary, we now desire to welcome you into our lives and our history. At this hour, a weary and distraught humanity stands with you beneath the cross, needing to entrust itself to you and, through you, to consecrate itself to Christ. The people of Ukraine and Russia, who venerate you with great love, now turn to you, even as your heart beats with compassion for them and for all those peoples decimated by war, hunger, injustice and poverty.
Therefore, Mother of God and our Mother, to your Immaculate Heart we solemnly entrust and consecrate ourselves, the Church and all humanity, especially Russia and Ukraine. Accept this act that we carry out with confidence and love. Grant that war may end and peace spread throughout the world. The "Fiat" that arose from your heart opened the doors of history to the Prince of Peace. We trust that, through your heart, peace will dawn once more. To you we consecrate the future of the whole human family, the needs and expectations of every people, the anxieties and hopes of the world.
Through your intercession, may God's mercy be poured out on the earth and the gentle rhythm of peace return to mark our days. Our Lady of the "Fiat", on whom the Holy Spirit descended, restore among us the harmony that comes from God. May you, our "living fountain of hope", water the dryness of our hearts. In your womb Jesus took flesh; help us to foster the growth of communion. You once trod the streets of our world; lead us now on the paths of peace. Amen.
---> DONATE TO CARITIS INTERNATIONALIS <---
----------------------------------------------------------------------------------------
You can donate to St Joseph's by clicking or tapping below:-

Interested in the Church's welcome for Ukrainian Refugees? email: caritas@dioceseofnottingham.uk
Social action : Justice & Peace : Care of Creation | Equipping disciples for mission in the Catholic Diocese of Nottingham
Covid Guidelines that apply across England & Wales
All over 16's to have 2 jabs + booster where possible.
If symptomatic – Stay away.
End to social distancing but wear a face mask in church if you feel vulnerable.
Continue good ventilation.
Use of Hymn Books, Missals etc., allowed again.
Holy Water Stoops allowed again. Change water weekly.
Sign of Peace allowed again.
Clergy to sanitise hands prior to distribution of Holy Communion.
Holy Communion to continue in One Kind.
Singing may resume fully.
Offertory Procession allowed.
Resume social activities, e.g. Tea/Coffee after Mass.
Synod 2021/2023 Meetings
The first of our parish meetings was held on Tuesday 2nd November at 3pm at St. Joseph's. It coincided with the parish AGM. Further meetings will be held to discuss questions put to us by the Holy See. Those unable to join our parish meetings can submit their responses to the parish questions online by visiting www.dioceseofnottingham.uk/synod2023 and clicking on 'HAVE YOUR SAY'. The information submitted will feed into our own parish reflections. This form can also be used by those on the margins of the Church or who are not a Catholic. We are invited to ask those furthest away from our community to be involved so I encourage you to share this with friends and family. Scan the QR code to go directly to the form.
------------------------------------------------------------------------------------------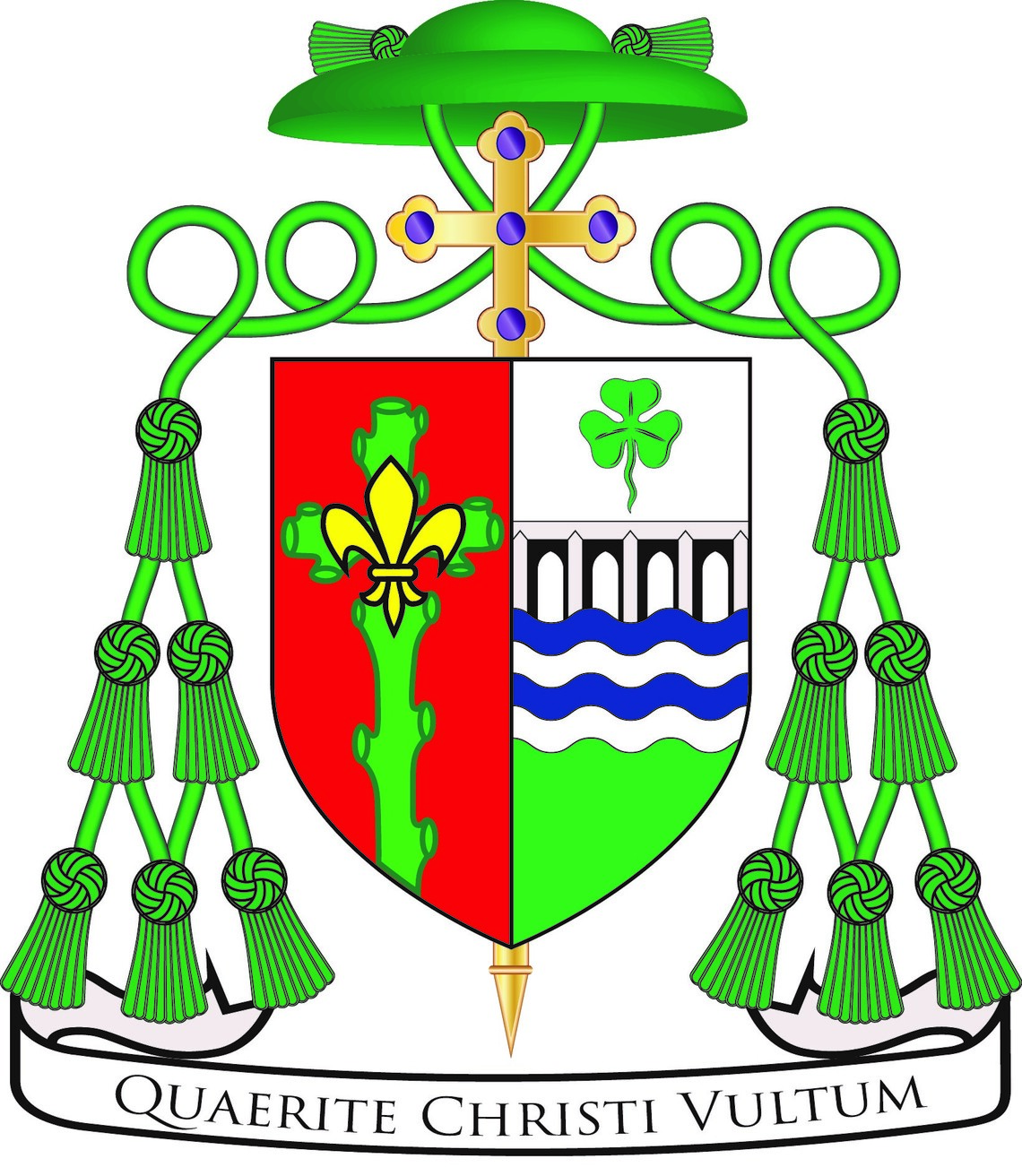 Seek the face of Christ
By Order of the Bishop, the following statement is to be published
on the weekends in February and October each year
Revised 29th August 2020

Marriage is a lifelong vocation of a man and a woman to a community of life and love open to children, and, between the baptism, it is a Sacrament. Aware of the many pressures today which can endanger family life, the Church is constantly concerned to make sure that those of you planning to marry are prepared as well as possible. We would like to remind those who wish to marry of the following.
1. it is important that a couple go to see their priest in good time before the wedding. Normally at least six months' notice be given
2. Marriage preparation is carried out by the priest, often assisted by a group from the parish.
courses arranged on a Deanery basis are recommended.
3. Catholics are reminded of their obligation to preserve their faith and to do all they can within the unity of their partnership to have all their children baptised and brought up in the faith and practice of the Catholic Church.
4. Non-Catholic partners will be informed of this promise, but they are not asked to make this or any similar promise.
5. Dispensation for a marriage between Catholic and a non-Catholic to take place in a non-Catholic church can only be granted for a serious reason. Couples who wish to marry in a non-Catholic church
should discuss this matter with their priest in good time before their wedding day to see whether a dispensation could be granted.
All couples marrying these days need the support of the local Church. In this way they will be strengthened in their preparation for marriage, in celebrating their marriage,
and in living out their covenant with one another.
We wish to thank all those married people who show such constancy and Fidelity to their vocation of marriage. May their example inspire those planning to marry in the Church.
Right Reverend Patrick McKinney
Bishop of Nottingham
This year's Justice and Peace Conference took the theme 2021: Moment of Truth. It included several inspiring and challenging speakers. All are available on the Justice & Peace Network's Youtube Channel.
A good place to start is Fr Eamonn Mulcahy's 'Let us Dream Together: Pope Francis' Gospel Vision for an Integral Humanity' (below):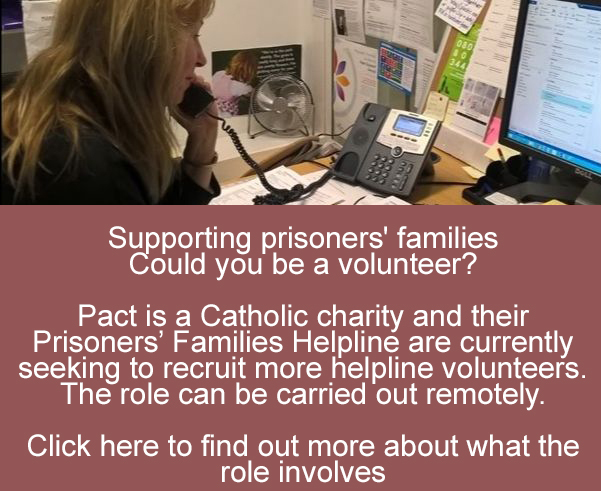 -------------------------------------------
A Father's Heart – A Podcast for Catholic Dads
The Diocese of Nottingham has launched a new Podcast to celebrate the Year of St Joseph. A Father's Heart takes its name from Patris Corde (Pope Francis' letter that launched this special year). This letter is split into 7 sections, each highlighting a different characteristic of St Joseph's fatherhood. Each month the podcast will pick a section for 2 dads, from around the diocese, to reflect on and discuss. To listen (and subscribe) by clicking or tapping on image below: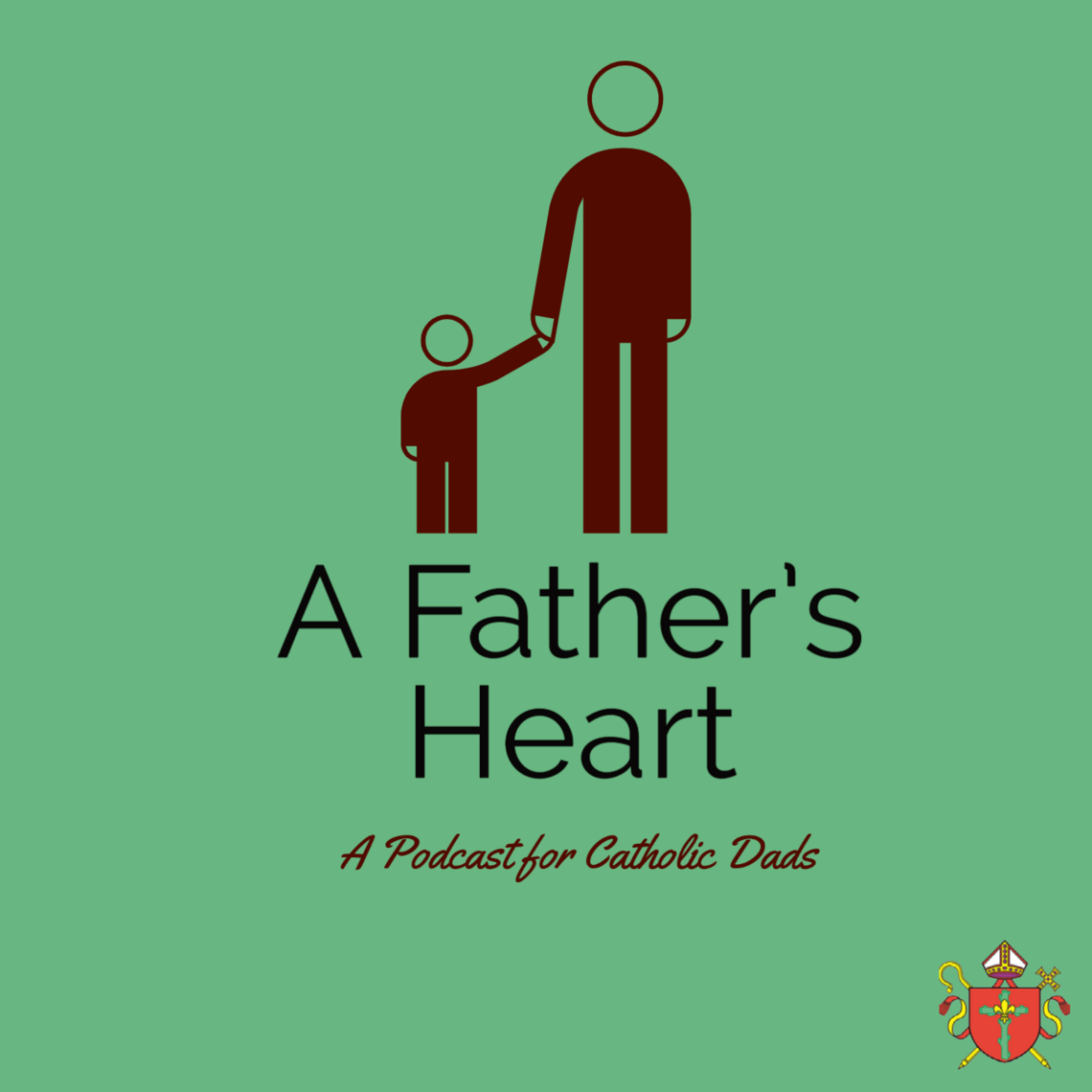 Click or Tap on image below to read the "Statement of Safeguarding" published Friday 20th November 2020

Click or Tap on the image below the Bishops' Conference of England and Wales website for the 'Elliot Report'. In October 2019, the Bishops commissioned an independent review of the Catholic Church's Safeguarding Structures and Arrangements in England and Wales. Ian Elliot is the independent Chair of the Review.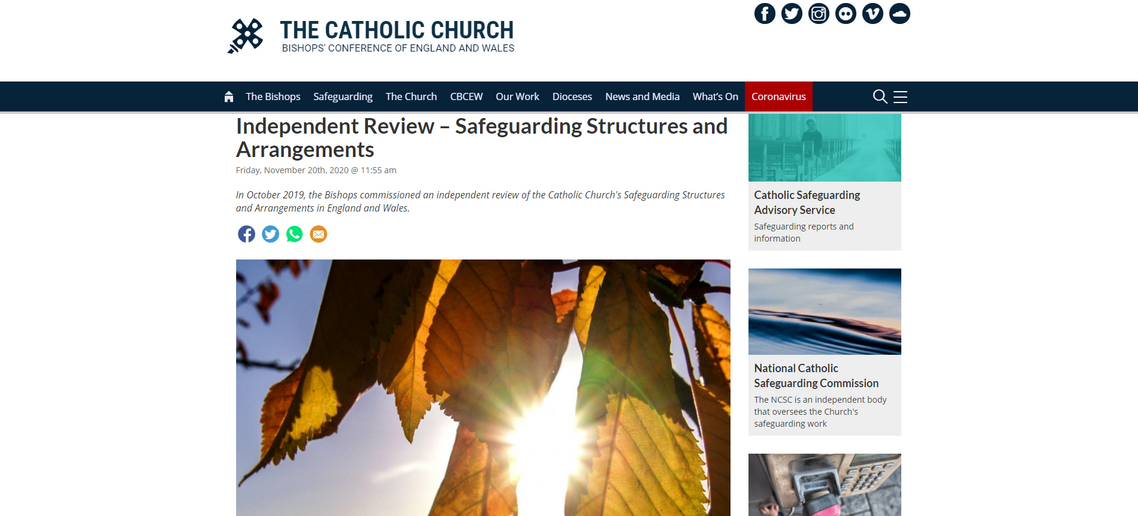 Click or Tap on Cathedral Image for Live Services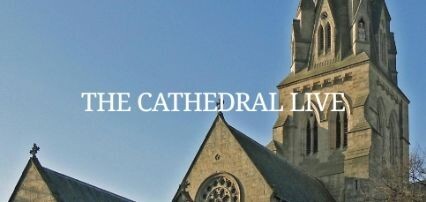 Click or Tap Below for Nottinghamshire Diocese Website:-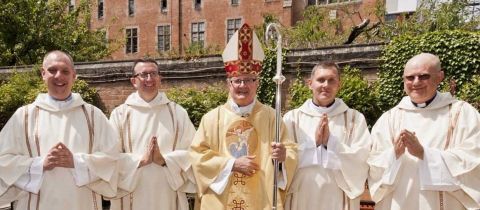 You can still donate to St Joseph's by clicking or tapping below:-

Grief, bereavement and befriending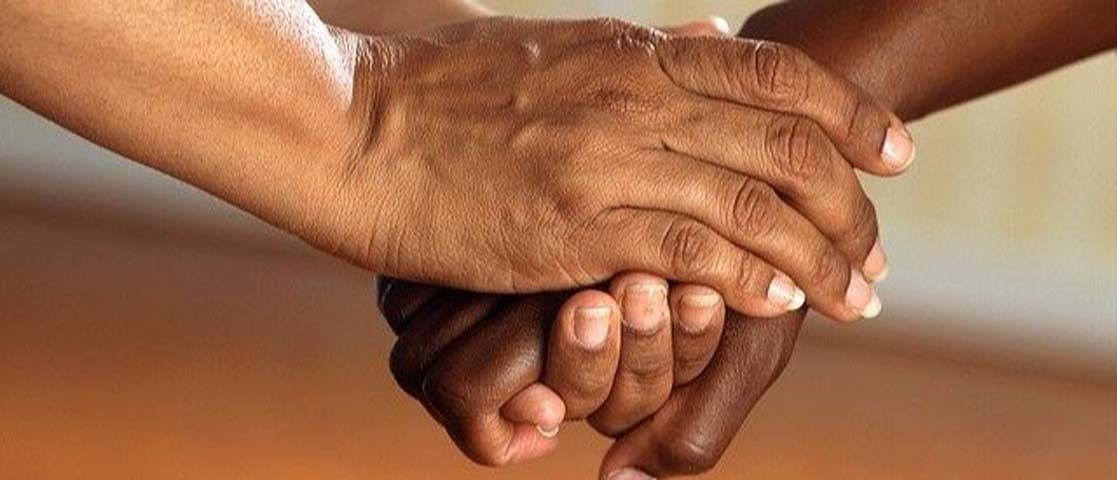 An opportunity for Nottinghamshire parishes
Parishes in Nottinghamshire will soon be able to make use of new interactive workshops to equip them to support people facing loss and loneliness.
Workshops on bereavement support will explore what grief is, how to best support someone and where they can find help in the county. Practical help is also available to set up befriending projects with help from a scheme called Linking Lives.

The opportunities are offered by the ecumenical network Transforming Notts Together (TNT), thanks to a National Lottery grant, and is available to any Nottinghamshire parish wanting to respond creatively to loss and loneliness in their neighbourhood.
New Vatican Guidelines on Parish Reform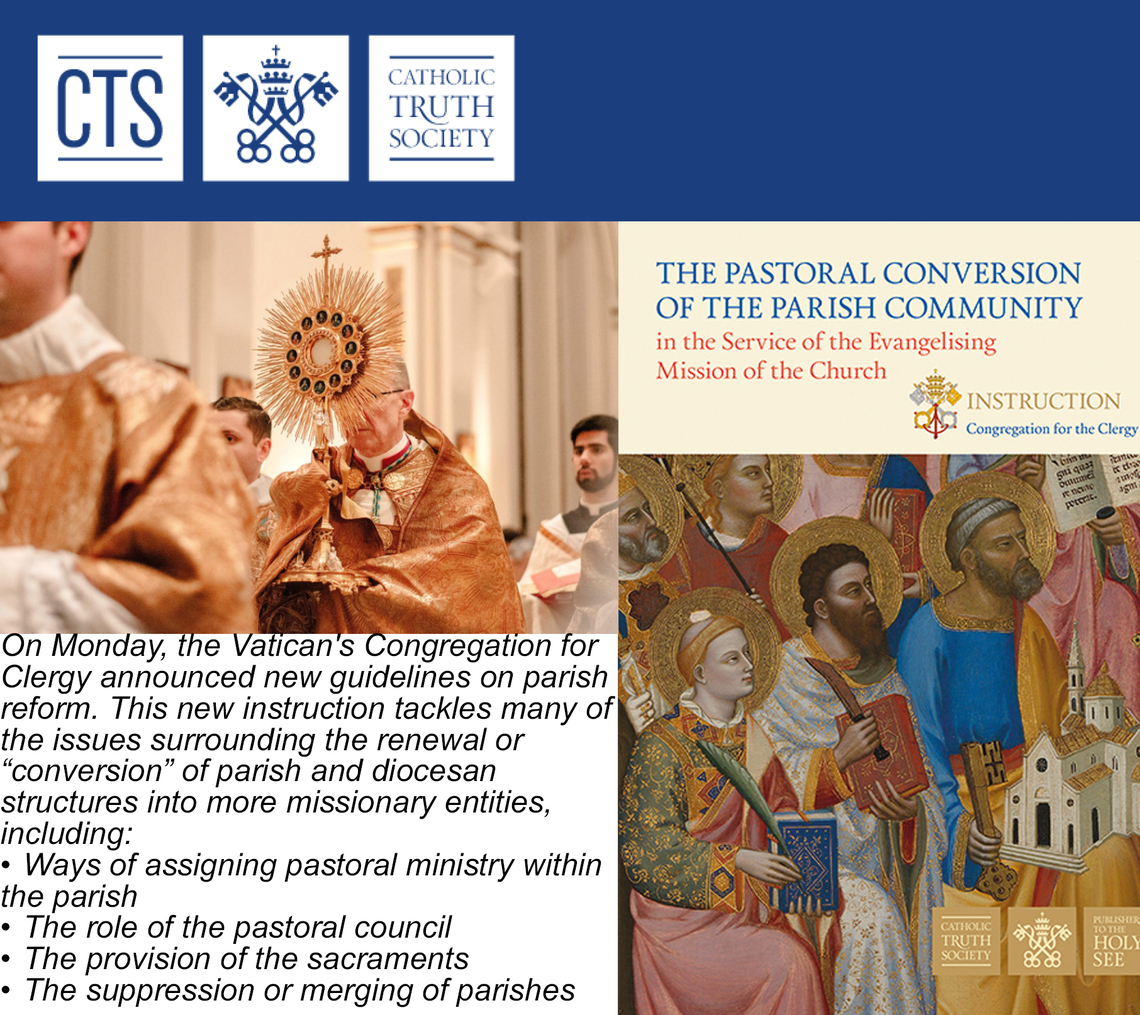 The Vatican announced on Monday a new document on parish reform
The Pastoral Conversion of the Parish Community is available to pre-order now
or Click or Tap below
Spiritual Excercise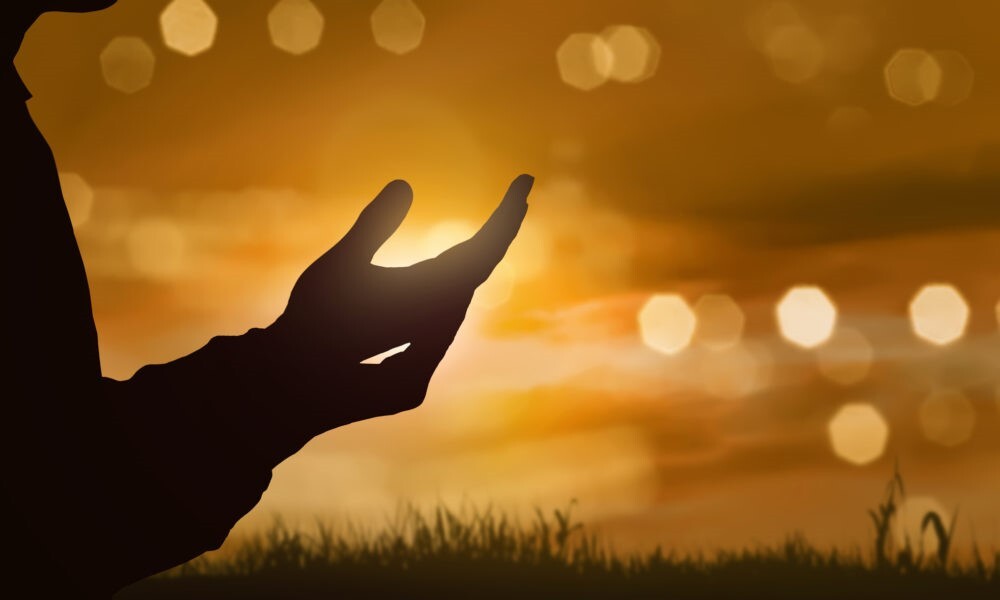 We encourage you to sit in stillness for ten to fifteen minutes and open your heart to receive God's gift of the Holy Spirit.

This spiritual exercise will deepen your awareness of the presence of the Holy Spirit in your heart and give you confidence that the Spirit will be with you in everything you do to make Christ known.
Centre yourself; sit upright, two feet firmly on the floor; breathe rhythmically with deep breaths, in and out, from the abdomen; clear your mind of all preoccupations.

Bring yourself to bodily stillness.

Now welcome in your heart this gift that Jesus has for you: "Peace I leave with you; my peace I give to you. I do not give to you as the world gives. Do not let your hearts be troubled, and do not let them be afraid" (John 14:27).

Quietly repeat those words of Jesus and hand over to him all worries or trouble.

You may find it helpful if you name to God a specific area where you need healing or forgiveness.

Now be still for some time in the presence of God as you welcome the Holy Spirit into your heart.

As you are about to finish your time of prayer, focus again on your breathing while you relax in God's presence.

Bring yourself gently back to your daily concerns.
May you receive that peace of Christ each day.
Click or Tap below to read


Exercise excerpt taken from Talking about Jesus £4.95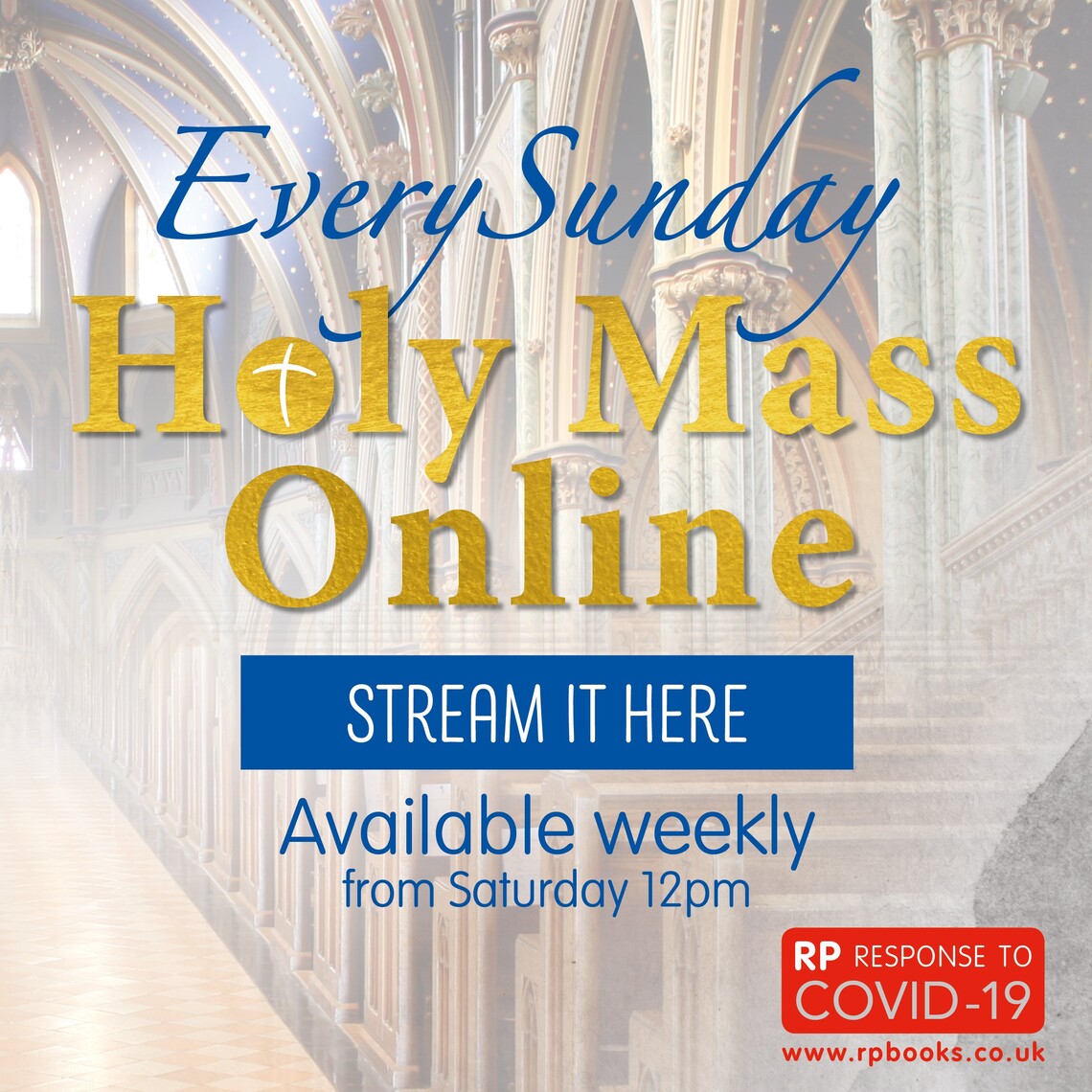 Live-Streaming from
The National Shrine of our Lady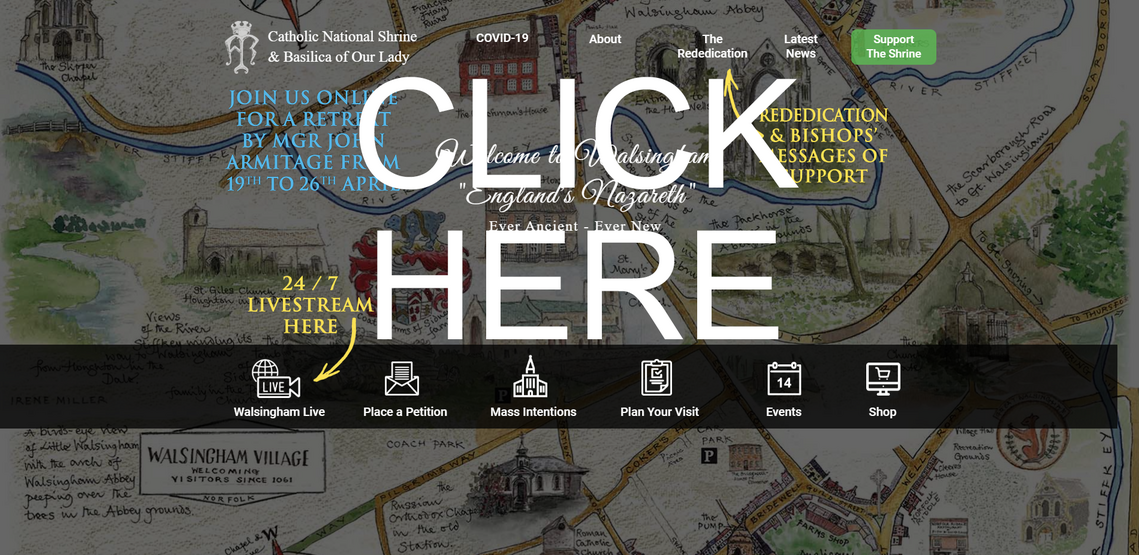 CATECHESIS
They will be shown at 10.30am and 4.00pm each day.

Click on chosen title below to purchase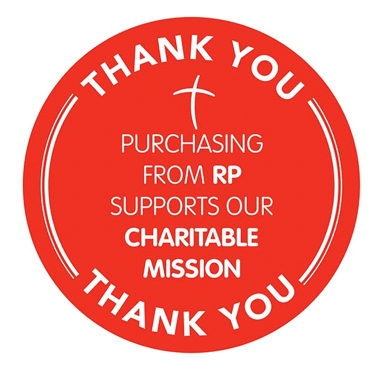 F